hey there friday people! how is everyone?
this weekend's going to be
a little busy
for me - lunch at
whole foods
today with mom and my little sister for her birthday (she'll be 19! i'm so old!), then going shopping for her "back to school" clothes.
tomorrow i'm making her birthday request: a gluten-free, cookies and cream ice cream cake.
wish me luck!
and her birthday dinner is that night.
sunday i have church and lunch with the girls in the family and a few friends, then i'll probably collapse!
you guys doing anything fun?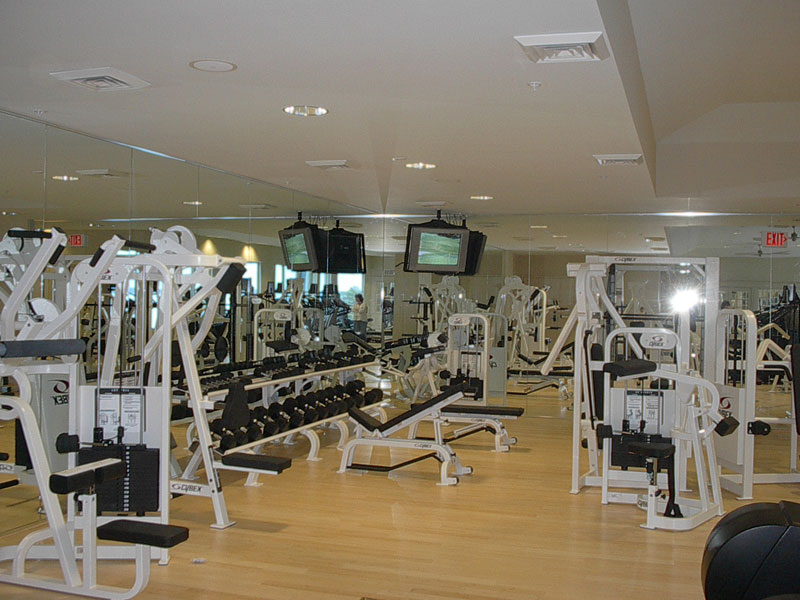 ok, so today i want to explain how to plan efficient gym workouts.
we all know we need some strength training in our life. it strengthens our bones, prevents injuries, and tones our bodies (bonus!). it also keeps us young and makes us better runners/swimmers/yogis.
but i hear all the time "i don't know how to lift weights!" or "it takes way too long!," and i understand why you feel that way! the gym can be intimidating and a huge time-suck if you let it.
so we need a game plan.
y'all, honestly,
i hate to be at the gym for more than an hour
. i think it's pointless, boring, and who has time for that? so i plan my workouts to be quick and dirty, fast and efficient. i get more done in my speedy session that i used to in
hours!
how?
keep it simple.
i'm not a doctor, but my advice? no one needs to spend hours wandering around using every single machine! we aren't bodybuilders - just regular people trying to be healthy and strong.
things to remember:
1. focus on technique and effort -
this is the most important part. as someone who worked in the gym and dated a personal trainer, i can't stress this enough! and i don't mean to be rude, but if you aren't willing to commit to doing it right,
please don't do it at all
. irresponsible, incorrect form can cause injuries that take
years
to get over.
the
positive
side of taking your time? you don't have to lift huge weights to see results. the best progress will come from you taking your time, focusing on what you're doing, and giving your best effort on every single rep. slow down and get it right the first time!
if you're a member of a gym, i would highly recommend asking a trainer or staff member to watch your technique from time to time. don't be intimidated - they want you to be safe, and you look way less clueless that way.
2. engage your entire body -
this is how you get in and out quick! it's like multitasking for your body: the more muscles you engage at a time, the quicker you tone up. start incorporating exercises that use multiple muscle groups at once, like lunges, planks, and lateral raises.
i know the circuit machines are convenient and less scary, but you don't go to the gym to sit down! get up off your hiney and hit the free weight section - you don't get a toned body from a workout in an easy chair. it's not the "guy's area," it's just where the weights are... but notice: mostly guys use it, and mostly the guys are toned... hmm.
3. learn to love supersets!
this is what changed my body composition the most! a
superset
is when you do strength exercises back-to-back, instead of doing a set, resting, then doing another set.
for example, i usually do a pattern like this:
a set of arm exercises, a set of ab exercises, and a set of leg exercises.
as soon as i finish the arm exercises, i go right into the abs with no rest, then right into the legs with no rest. after legs, i'll grab some water and chill for 30 seconds or so, then i go right back into the arms. see? a superset!
the
benefit
? it keeps my heart rate up, my muscles warm, and is lightning fast! you sneak some heart-strengthening cardio into your weight routine, pump up your muscles, and you're done in no time. and if you're like me, you need something where you don't get *yawn*
bored
.
my workout schedule?
i'll be honest - i don't spend a lot of time working out. i love being active, but
i just don't have the energy for it
like i used to. so you can imagine how surprised i was when my body began transforming to the strongest and healthiest i've ever been... as i did less and less!
i'm not saying you should be lazy.
hear me out - being active is a huge priority in my life. i used to believe i had to do hours of cardio to fit in my jeans, and i
definitely
over-trained. these days, i'm committed and consistent, but please realize you don't need to slave away at the treadmill to be fit.
my week almost always consists of 2 weight workouts, 1 cardio interval workout, 1 endurance workout, and a yoga day. that's it! i warm up and cool down a few minutes before and after weights, my intervals are a 30-min treadmill deal, and my endurance workout is usually a long pool swim. i do yoga for a few minutes most days a week because it feels good, but i also try to dedicate one weekly workout to yoga to challenge myself.
the bottom line?
you DO NOT need to do cardio endlessly. it doesn't really build muscle or boost your metabolism. what your body needs is to be challenged, then
rested.
if you want to change your body and how you feel, hit up those weights, ladies and gentlemen!
a workout can only be effective if you're
consistent
and
actually enjoy doing it
. and no, you don't need to workout every single day! that's ridiculous. you get the most results when you let your body rest and rebuild! don't pack so much exercise into your life that you hate doing it and give up. this isn't a race -
it's a lifestyle for your health!
have any workout tips to share? favorite exercises? stories?
-rebekah